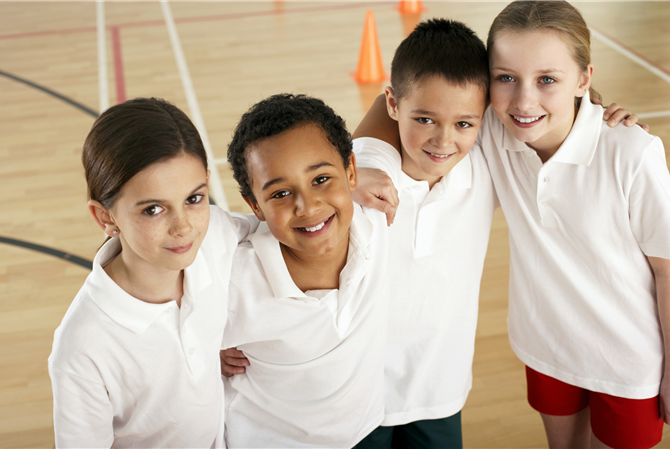 Getty Images
Actively Engaged Learning Community
At the heart of this chapter is an aspiration to create a learning community involving teachers and academics. Indeed Ovens and colleagues' position this learning community as a way to support teachers, working with different age-ranges, in the restructuring of their teaching of physical education. This collaborative work sought to change the focus of physical education in these schools from a traditional multidisciplinary approach, with its performance discourse, to one with a holistic approach that embraced socio-cultural and critical perspectives. To achieve this they chose to use the Cooperative Learning model.
Fundamentally, Cooperative Learning was chosen because it focuses on students working together in small groups and encourages them to be dependent on one another to learn. Such an approach, like the changing Health and Physical Education curriculum in New Zealand, places greater emphasis on critical perspectives and inquiry-focused learning approaches. Furthermore the model allowed the teachers, through the community of practitioners and academics they created, to pay greater attention to how they taught. This was achieved (and achievable) because the community helped create a supportive learning environment that encouraged reflective thought and purposeful action.
By working together in a supportive learning (both teacher and student learning) community, Ovens and colleagues found that teachers spent more time and effort on task design. In changing their pedagogical approaches teachers found that task design (which they had previously found natural, perhaps even hidden) played a central role in structuring and developing an effective learning community and providing impactful Cooperative Learning experiences for their students.
Through their engagement in action research, and by unpacking and using a new pedagogical model, the teachers started to recognise new things about the learners and learning spaces they were working with. Significantly they 'discovered' that the social and the cognitive domains are not dissimilar and should, therefore, be integrated and embedded in task design and classroom organisation. In this way Cooperative Learning allowed teachers to move beyond the performance discourse they were used to and find other ways in which to help their students learn.
One of the key outcomes of the learning community's use of Cooperative Learning was that they (the teachers and academics) felt that the students felt increasingly accepted and encouraged in their work. As one teacher noted, "in the same way that teachers are encouraged to reflect on their practice, learners are encouraged to develop the ability to pause and consider the nature of what they are learning from an experience".
Through their conscious decision to develop an understanding of the context-dependent complexities of their school (e.g. the individual challenges of classes, year groups and the school itself) teachers felt they understood more about teaching and Cooperative Learning. Specifically Ovens and colleagues felt that a better understanding of the context in which they worked and taught, positively impact on physical education teachers' ability to employ the model in their lessons.
One aspect of Cooperative Learning that facilitated its ongoing use was its reported compatible with current educational reforms in New Zealand. Another aspect, perhaps the most important one, that help the teachers in their use of Cooperative Learning was that it [the model] matched the teachers' existing philosophical perspectives about physical education and teaching. A number of teacher reported that it was "a teaching approach that supported the ideas of the New Zealand curriculum", that it had "strong coherence" with their own beliefs, and it was possible to make "explicit connections between the school and the model". One teacher felt that Cooperative Learning "aligned with both the national curriculum and the way her school was developing a curriculum".
When talking about the outcomes of their use of Cooperative Learning teachers said they observed social skill development and classroom equity. In other words, the Cooperative Learning classroom was a "positive place for the students to socialise and work and develop their understanding of things". At its heart Cooperative Learning enabled teachers to create a positive learning environment, be more student-centred in their teaching and increasingly shift more responsibility to students. Students, in turn, found the model more interesting to use and this improved the "quality of student learning". In a nutshell, and as one teacher suggested, Cooperative Learning "increased [the students] sense of empowerment and responsibility for [other] students' learning."
That said, the use of Cooperative Learning wasn't without its challenges. Ovens and colleagues noted that schools are not a blank canvas where innovation can simply be applied. These are places that are constantly inundated with new ideas that create real tensions and dilemmas for teachers in terms of what they can and should do. Indeed, if it wasn't for the synergy between Cooperative Learning and the teachers' personal philosophies then it may not have worked as it did. In fact, for three out of the eleven teachers it was too difficult to balance the use of a new model with a lack of physical education specific content knowledge. There was simply too much to do.
For the remaining teachers they either had, or developed, the resilience to work through certain constraints. Why? Because it resonated with their own ideas of good teaching. Furthermore they saw their students learning from each other. Importantly they felt that Cooperative Learning was coherent, matched with their own philosophy, and there was an alignment between Cooperative Learning and other initiatives coming into the school.
It wasn't all plain sailing though. Teachers acknowledged that it takes time to process learning (i.e. engage in group processing and face-to-face interactions). Furthermore, in a physical environment, teachers felt that they lacked (or couldn't easily commit) the time to understand the students' understanding (i.e. reflect on what had been learnt). They also felt that Cooperative Learning was labour intensive and took more time and more planning than their 'normal' teaching approach.
Ovens and colleagues concluded by suggesting that teacher perceptions are not static but are constantly evolving in response to their ongoing experiences. The idea of traditional practice is not fixed but is moving – albeit not as fast as some of us might like. Fundamentally teachers are busy. "In addition to have to teach on a daily basis they also have to adapt to educational reform, make sense of new and sometimes competing educational ideas prompted through professional development and continue to ensure quality educational outcomes". These are testing conditions in which to work but the take home message from Ovens and colleagues' chapter is that Cooperative Learning is a 'good fit' in terms of educational reform, personal philosophy and good teaching.
Ovens, A., Dyson, B., & Smith, W. (2014). Implementing the Cooperative Learning Model in physical education: The experiences of New Zealand teachers. (pp. 15-26). In B. Dyson & A. Casey (eds.) Cooperative Learning in Physical Education: A research-based approach. London: Routledge.